Lost?? Nope.....just wandering.
Posted on
"Not all who wander are lost"
(Tolkien, Fellowship of the Ring, 1954)
As many of you may be aware, I have had my head buried in books, lectures, theories and so on for the last two years whilst I have been completing a practice based Masters in Creative Practice. I have been creating too, it is a practice based programme after all, but the theory and contextualisation becomes so crucial to the practice element that every spare moment of brain time is consumed. It's been EXHAUSTING.....

Any half baked complaints aside, the process has been invaluable. I have wandered and lost my way. Found the trail, promptly lost it again, found a completely different one and wandered down that one a short way, only to find it links with the original trail in a completely unexpected but entirely logical way at a previously hidden fork in the road. All this wandering has been with a purpose, a desire to get to the nub of it all and Tolkien's words in the legendary Fellowship of the Ring has become something of a mantra during these last two years. And now, not only do I understand my own motivations and what I am trying to achieve but I can actually articulate it…..kind of…..
So now that I have submitted the final Reflective Evaluation and the dust has settled from my Masters Project Exhibition at the Harrogate Theatre in early August, I thought I might share a quick snapshot of the primary concepts and ideas behind my impossibly suspended, devilishly delicate paper cuts and my absorbingly atmospheric paper cut light boxes. So here goes……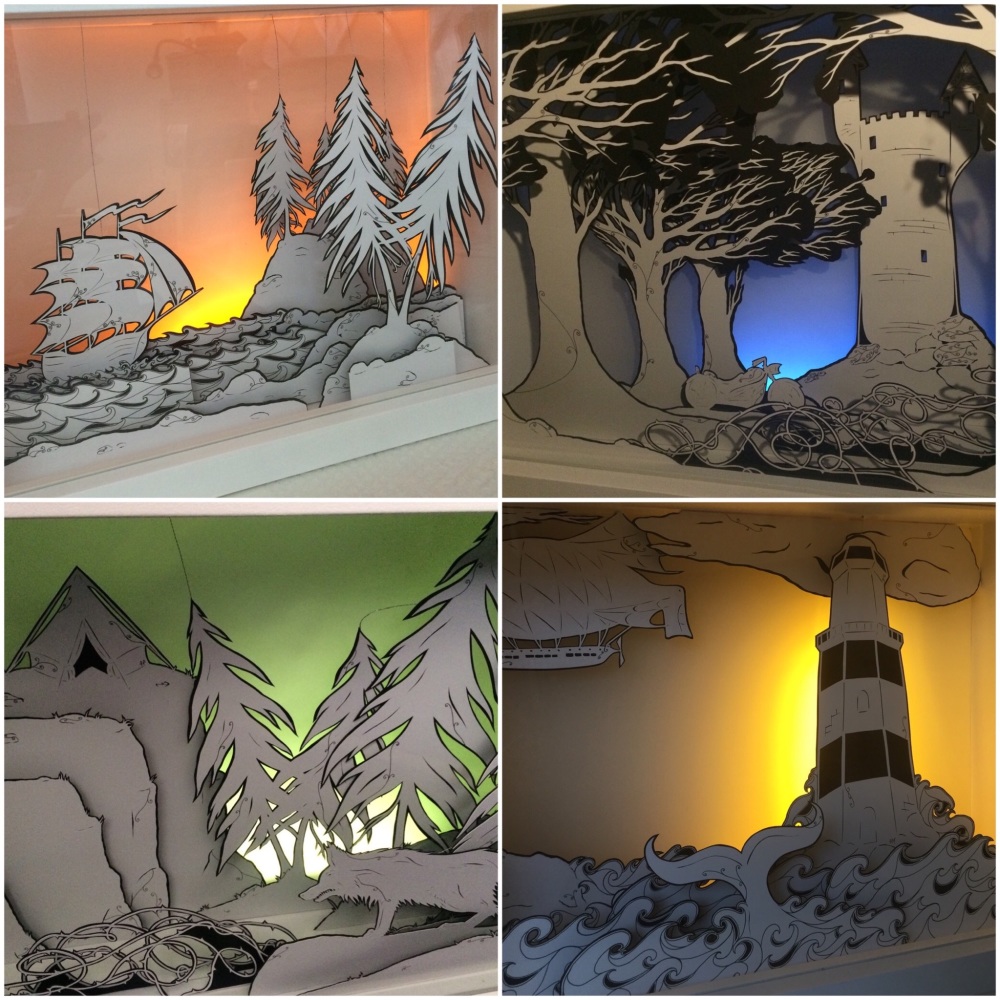 Basically, it's all about the stories - I've always been a sucker for a good story….... and visual-centric storytelling done well can be totally absorbing - who doesn't enjoy getting completely absorbed in a good story? So my love of a good story has essentially manifested in a desire to create visuals that act a catalyst for that sense of magic, enchantment and an underlying sense of unease all good stories stir up in our brains, bellies, hearts and souls.
With stories forming the central nexus, fairytales and folklore became the obvious choice for me as a paper cut artist already hugely inspired by stunning silhouette animations of Lotte Reiniger (1899 - 1981). Familiar stories with links to hearth and home, symbolism and psychoanalytic interpretations, narrative layers, personal significance for most with links to latent childhood memories, a stagnation in the portrayal of 'Disney-fied' female protagonists and a growing tradition of alternative and feminist retellings . I have read, and wandered, widely around all these ideas wading through Umberto Eco's Six Walks Through the Fictional Woods, Jack Zipes' Fairytales and the art of subversion, Sheldon Cashdan's The Witch must die, Bruno Bettelheim's The uses of enchantment and others. Re-reading, and discovering some for the first time, stories by Brothers Grimm, Charles Perrault, AS Byatt, Angela Carter, Sheri. S. Tepper, Margaret Atwood and Edgar Allan Poe made sure I stayed in touch with the magic of a story well told.
All of that said, because our context does of course inform our perspective, I needed to acknowledge that my storytelling comes from a female perspective, that has been shaped by an experience that whilst unique to me, may be relatable to others. In turn my creative choices are linked to this experience and I have unconsciously ,and more recently consciously, referenced my perspective through a subtle use of mediums and techniques with strong links to women's creative practices and their legacies (paper cut - long history as a decorative art for domestic environments depicting familiar scenes, animals, plants and stories. Stitch and crochet - long designated a 'women's' craft). In this element of my storytelling I have found a huge amount of inspiration in the Femmage artworks of Miriam Schapiro, two untitled pieces by Marisa Merz currently in the Tate collection and Rozika Parker's book The Subversive Stitch.
So, there you have it. It's all about the stories. The story you see and the story you don't see. Your story and my story. The story I had in mind and the story it makes you think of. The collective story and the singular story.
For the now and the future, I will remain mindful that "Not all who wander are lost" and I'll be sure to wander often, leaving breadcrumbs to mark the way hoping the birds don't eat them all and trusting that if they do, there will be an unseen fork in the road ahead that will lead me back to the trail, or maybe to another more interesting one.
Safe travels, and remember getting lost nearly always makes things more interesting.