Rollercoasters...
Posted on
2016 has, in it's short four and a bit months, proved to be one of the most challenging years of my adult life.
And, I have ummm'd and ahhhhh'd at length about whether I would write anything on here about the emotional rollercoaster that has been 2016. But, the reality is I don't really have a choice. Writing an update about my creative journey where I edited out experiences or thoughts that have been instrumental in shaping that journey, wouldn't be honest and would inevitably lead to it sounding contrived. So, here goes......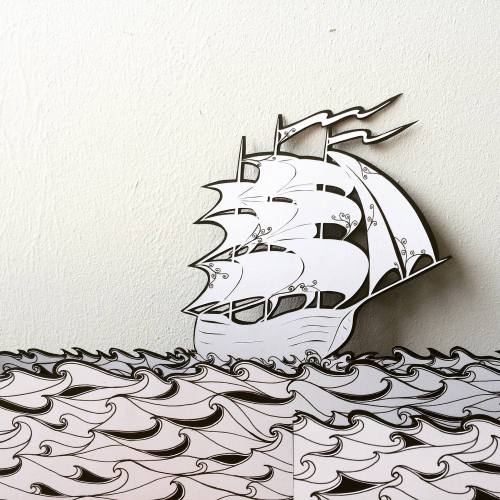 As an exhibiting artist you become quite familiar with the exhilaration and crippling self doubt that accompanies the act of exposing the inner workings of your mind for scrutiny and criticism. It feels a lot like giving people copies of your diary to read, and then asking them to tell you exactly what they thought of that time you walked right through the middle of a busy pub without realising your skirt was tucked into your knickers (not me.....honestly). The nature of the MA journey means that the scrutiny and criticism, of both your work and the thinking behind it (the colour of your knickers, as it were), is exponentially intensified. On the whole I have managed to ride the mentally and emotionally taxing rollercoaster that this MA journey has been, without feeling the need to shout 'stop, I want to get off!!!'. So, I entered the new year feeling relatively confident, that the timeline I had drawn up for the final module of the MA was totally doable. Even with the inevitable crisis of confidence that would no doubt rear their heads regularly.
Then towards the end of January, my very independent and vital Mum-in-law fell seriously ill. For a while things looked really bleak, then against all odds and to the amazement of her doctors, she came too. A long and bumpy road to recovery awaited, but, this strong determined lady was up for the task and a few weeks later we were no longer visiting her in hospital but in a rehab centre where she had won the hearts of everyone with her wicked sense of humour. Sadly though, the winning streak, was not set to last. To the puzzlement of everyone, the vibrancy that had started to return, began to slip away. Her return to the hospital for medical care and diagnostic tests, felt like a step backwards to everyone but we all remained positive - she had defied the odds before, she could and would do it again. Sadly, that was not to be. My husband's lovely Mum passed away on the 4th April. Leaving behind four children and eight grandchildren.
She was quite simply an awesome mum-in-law and I will treasure my memories of her. Her funeral was beautiful and the wake did her proud.
The sorrow, anguish, bittersweet moments of humour, frustration, love, anger and helplessness that I have both witnessed and experienced over these last few months have left a lasting impression on my very soul. And there have been times when we have all undoubtedly wanted to shout 'stop, we want to get off' but time marches on. And we must go with it.
So here I am, changed forever and in the process of questioning and scrutinising everything. And now, I can see a layer of sorrow in my work that I had never noticed before....